Area:
West
, refcode:
HHHSD7259
New Project of Award Winning Luxury Custom Green Pool Villas by Experienced Developer at Hua Hin
From USD 225,008
to USD 330,392
PRICE
From USD 225,008
to USD 330,392
NEAR
Show on map
9 km from Hua Hin and the central beach in a stunning, elevated mountainous area with a natural river. The immigration office is 1.7 km away. Close to bypass road directly to Bangkok (only 250 km.)
VIEW
Mountain View/Inland
POOL
Swimming /Private (40 m2)
LAND SIZE
550.00 m2 (0.34 Rai)
FINANCE TERMS
Flexible Payment Terms - Monthly Payment Terms over Construction / 50% finance for 5 Years with 7% Interest Per Year * Terms Apply
RENTAL GUARANTEE
Full Rental Management Available
ESTATE FEE
12.8 THB/month
SPECIAL OFFER
Comes with Furniture Package and Solar Panels!
Show more
► Show video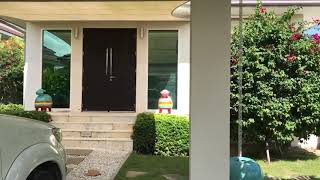 3
Bedrooms
4
Bathrooms
Western Kitchen
Solar power
Private Pool
Parking Space
Near Shopping
Near Schooling
Near Hospitals
Near Golf Courses
Near Boat Mooring
Near Airport
Mountain View
Laundry Room
Internet Connection
Home security system
Gym
Garden
Garage
Cable/satellite (UBC)
BBQ
Air-conditioners
THE BIBURY LUXURY HOMES
New custom luxury villas brought to a whole new level. As a Hua Hin property owner here, you will have the chance to create your own customized villa. You get to choose among various types of granite, ceramic and marble products so that your property is truly what you have always dreamed of.

The luxury villas for sale Hua Hin in the new resort will range between 550 and 820 square meters so that you have all the space you need. Aside from that, a long list of facilities in the resort will make your life much easier and they will allow you to really enjoy everything at its very best.

All in all, this project is bound to charm you at first sight. Located in Hua Hin, a place with a royal history and with lots of attractions, the villas in this resort provide their owners with the best comfort and with great relaxation as well. The luxury villas for sale Hua Hin are all built according to the highest standards in the industry – and they will definitely steal your heart from the very moment you lay your eyes on them.

Located in a picturesque landscape with majestic mountains, fabulous pineapple fields & peaceful natural rivers. Luxury Homes is distinguished by its naturally beautiful setting, striking perfect blend of modern architecture & solar system that give you free energy all year around.

This project is an outstanding collection of Luxury Villas perched in lush tropical landscape with a peaceful natural river. Only 10 minutes away you find the international award winning Banyan Golf Course & city centre of Hua Hin.

The Inspiring contemporary designs have been created to take full advantage of the exceptional mountain & river settings with a significant modern simplicity design. Just 29 exclusive tropical villas will integrate to highest international standards with a unique tranquil geography & flora you only see very few places around Thailand, giving the location its own secluded character.

FEATURES OF THE PROJECT

Great Location
Luxury Homes is located only 9 km from Hua Hin and the central beach in a stunning, elevated mountainous area with a natural river. The immigration office is 1.7 km away. Close to bypass road directly to Bangkok (only 250 km.)

Luxury finishing products
Using brand names only for all components, kitchens, bathrooms, built-in furniture, all electrical goods, air conditioning, high ceilings, over-flow pools, granites, sand stones, marbles, stainless steel electric gates, alarm systems, etc

Design, Architecture & Drafting
We can help plan the look and layout of your villa and help with design for truly custom results.

Large plots
The villas offer very spacious interior and exterior living space with individual land plots ranging from 550 to 820 sqm.
Custom Designed Villas
On land plots ranging from 550 up to 1200 sqm. House designs and specifications are a joint collaboration between the client and the developer.
Sales Price: Price depending on design and land plot size
Furniture Packages:
For Villa Pine, Villa Teak is 600,000 THB and for Villa Palm and Villa Oak is 700,000 THB Furniture from Beautiful World Furniture is available or there is a cheaper option direct from the factory.

SOLAR PANELS INCLUDED

Each of four luxury villa types have options to include solar panels with a powerful 5 KWH Inverter, which will save you about 3,000 THB a month on your already low electric bill.

Solar is an eco-friendly way to save huge on electricity bills and adds value to the property. In Thailand, sunshine and luminosity are perfect. That's why, solar systems is much more profitable, amortized quickly and whose investment cost is clearly lower than in Europe.

• Solar energy, a clean and sustainable energy.
• Solar energy is inexhaustible and available, unlike fossil fuel.
• Solar energy is free.
• Solar energy, environment for the future.
• Solar energy is respectful of the environment: no greenhouse gas emission, because of no combustion.

MANAGED RENTALS

We'll advertise your home, secure qualified tenants, prepare the rental agreement, manage tenant arrival and departure, provide cleaning and maintenance, and collect rental payments on your behalf.

• Marketing Services
• Villa Operations
• Guest Management
• Transparent Reporting
• House & Pool Cleaning
• Maintenance & Security

The project also comes equipped with the following top-notch amenities and services that add value to the property:

•All-inclusive
•Fitness Room
•24-Hour Concierge Service
•24-Hour Security Service: CCTV Surveillance, daily patrols of entire grounds

VILLA PINE Starts From 5.7M THB

3 Bed 2 Bath & 8 x 4m pool

HOUSE AREA
184 SQ.M.

BEDROOMS

3
BATHROOMS

2
LAND AREA

550 SQ.M.

Villa Pine, a three-bedroom masterpiece of a premium pool villa, offers 184 m2 open plan living space with 2 bathrooms and 'L-shape' design layout with extra consideration given to the living areas. This luxury villa offers the peace and tranquility of a real tropical hideaway, together with all the modern conveniences you'd expect from a luxury home, free powerful solar cells is of course also included for your convenience on the roof & the villa is designed with low maintenance in mind.

The fully equipped designer kitchen flows right to the pool terrace, makes it convenient for outdoor alfresco dining & BBQ under the stars. The superior & spacious master bedroom comes with direct pool access for all those early morning dips while watching the mountain in the distance & that never fails to impress.

The prestigious 3 Bedroom Villa for sale in Hua Hin also includes a large overwhelming 9 x 4-meter saltwater swimming pool with low maintenance, a great place to cool down after your morning run. The spacious guest bedrooms have easy access to the shared large bathroom, and is carefully designed with a thoughtful touch of privacy from any late pool-side gatherings. The carport is perfectly tucked away, giving the landscaped garden & pool a clear look.

Do you want to buy a beautiful pool villa for sale Hua Hin? Look no farther than this 3-bedroom villa with L-shape design. You cannot find a better place that offers purest form of relaxation. The overall ambiance can be termed as inspiring. It can be easily the perfect villa you are always searching for.

As a highly reputed and reliable property company they offer dream villas with some wonderful outdoor living areas. Everything is designed with meticulous precision to deliver the best living experience. The creative skills of our designers are clearly evident and you can be a proud owner of an aesthetically pleasing and optimally functional villa.

This beautiful pool villa for sale Hua Hin can be purchased at a modest price. In order to meet and protect your interests in the best possible way, The developer has made the pricing extremely affordable. You can grab this excellent opportunity to become a proud owner of luxury villa that offers perfect form of relaxation.

VILLA TEAK Starts From 8.9M THB

3 Bed, 2 Bath & 8 x 4m pool

HOUSE AREA
237 SQ.M.

BEDROOMS
3

BATHROOMS
2

LAND AREA
550 SQ.M.

LAND ALLOCATION LICENSE

5 KWH SOLAR CELLS

Villa Teak, another one of our flagship properties with 3 bedrooms & covers a generous 237 m2 of multiple indoor & outdoor living areas. The full covered terrace is easy accessible from the kitchen & living room to make dining out side convenient and easy. The designer kitchen comes fully fitted with modern appliances & the living room features a state-of-the-art entertainment area. The roof is carefully designed with powerful solar cells, to make living under the sun enjoyable & cool under the invertor air cons installed in every room.

The Villa boasts architecture inspired by Scandinavian design, and this minimalist, attractive yet functional appearance is echoed throughout the decor & furnishings of the property.

Hua hin villa Teak includes an impressive 8 x 4-meter saltwater swimming pool & build in powerful solar cells on the roof.

The master bedroom has a large on-suite bathroom with a build in walk-in closet to give you privacy & lots of space to relax & enjoy. The other two guest bedrooms are located towards the backside of the property & share a large bathroom.

At the centre of the prime villas hua hin Thailand, you find the designer kitchen & dining area with high ceilings & a generous living area with lots of room & pace. This entire living area is bright & airy, with large sliding glass doors opening into the pool terrace with room for alfresco dinning with a cool breeze under the ceiling fans. Buy villa hua hin as it is designed with modern elegance & low maintenance making Villa Teak a great choice for living.

VILLA PALM Starts From 9.6M THB

3 Bed, 2 Bath & 9.5 x 4.5m pool

HOUSE AREA
263 SQ.M.

BEDROOMS
3

BATHROOMS
2

LAND AREA
550 SQ.M.

LAND ALLOCATION LICENSE

FREE SOLAR CELLS

Villa Palm, offers 263 m2 of living space inclusive of a large open plan living room. The outdoor terrace area features a giant up scaled 9,5 x 4,5-meter-long saltwater swimming pool. You are awaited by the outdoor terrace with wonderful outdoor relax area & ideal for getting guests while appreciate the magnificent view over the natural surroundings with a spectacular panoramic view over the nearby mountains.

The large well-appointed master bedroom comes with a free-standing designer bathtub & with direct access to the upscale build-in walk-in-closet & on suite bathroom with a giant rain shower overlooking the pool area.

In the centre of the palm villas hua hin you will discover the layout with open plan living room, high elevated ceiling and designer kitchen with cooking island, from where you can see the pool and tropical garden.

With our exceptional design feature, you can see directly up to the elevated ceiling with Sky Windows, located directly in the middle of the living room, allowing you to observe the starry night sky in the night, surely a feature that will impress all your guests.

VILLA OAK From Only 11.6M THB

3 Bed, 4 Bath & 10 x 4m Saltwater Pool

HOUSE AREA
293 SQ.M.

BEDROOMS
3

BATHROOMS
4

LAND AREA
550 SQ.M.

LAND ALLOCATION LICENSE

5 KWH SOLAR CELLS

Villa Oak, the largest & most luxuries modern villa we offer, with a generous 293 m2 of living space & tree spacious on suite bedrooms. Open plan living room with high ceilings connected into the kitchen & dining area, only divided with a half wall & separate floor levels, giving the room a great look & feeling.

All rooms have direct access to the saltwater pool & terrace area. Gigantic glass windows from floor to ceiling gives an extremely distinctive room sense of light & space. The exceptional Master bedroom design, comes with connected private bathroom & walk in closet.

The architectural interior design of the villa is well appointed & looking over the 10 x 4-meter saltwater pool & large terrace. The spacious designer kitchen layout is placed for optimum advantage whether dining in or outside. The large glass windows take the full advantage of the cool mountain breezes & gives a spectacular mountain view.

The tremendous Villa Oak features also high power solar cells, double carport, two storage rooms, laundry room, walk-in closet, automated front gate & entrance hall.



Graph showing historical per sqm pricing in West