Area:
South
, refcode:
HHSVCD8026
Luxury New High-Rise Sea View Resort Hotel Branded Condo by Top Developers with Amazing Facilities at Nong Kae, South Hua Hin -1 Bed Plus Units
From USD 184,092
to USD 196,609
PRICE
From USD 184,092
to USD 196,609
NEAR
Show on map
800 metres to the beach, adjacent to Water Park
VIEW
Sea View/Mountain View/Inland
OWNERSHIP
Foreign Freehold
POOL
Swimming /Private / Bar/Communal
LAND SIZE
8438.00 m2 (5.27 Rai)
SPECIAL OFFER
Complete with Exclusive Privileges: Hotel Services at a Special Price, Free Entrance to VANA NAVA HUA HIN for 5 Years
Show more
► Show video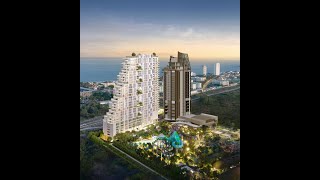 1
Bedrooms
1
Bathrooms
Western Kitchen
Spa
Sea View
Sauna
Private Pool
Parking Space
Near Shopping
Near Schooling
Near Hospitals
Near Golf Courses
Near Boat Mooring
Near Beach
Near Airport
Mountain View
Laundry Room
Internet Connection
Home security system
Gym
Garden
Garage
Fully Furnished
Communal Pool
Cable/satellite (UBC)
BBQ
Air-conditioners
VEHHA Hua Hin
Condominium with Ocean View, adjacent to Waterpark with Hotel Services An enticing package that cannot be denied.

The highest condominium in Hua Hin standouts because it provides uninterrupted ocean views from every apartment and ensures seclusion throughout with its Single Corridor design. From your balcony, spread your arms out and take in the beautiful views of the sea from dawn till dusk. With our fully furnished homes, you can make a hassle-free purchase and move in right away.

Benefits:

Resort Services by HOLIDAY INN
Free 5 Year Entrance to VANA NAVA (water park and entertainment facility adjacent to the condo)

Land Area
5-1-9.5 Rai (8,438 sqm)

Building
1 High-Rise Building
31 Stories

Rooms
364 Units

Room Type
1 Bedroom (28 - 30 sq.m.)
1 Bedroom Plus (42 - 46 sq.m.)
1 Bedroom Plus Corner (44 - 45 sq.m.)
2 Bedroom (56 - 109 sq.m.)
2 Bedroom Jacuzzi (103 sq.m.)
Penthouse (148 - 153 sq.m.)
Penthouse Duplex (101 - 349 sq.m.)

Parking
140

Facilities:

Floor 1:
Lobby / Viewpoint Terrace / Exotic Tropical Lap Pool / Kid's Pool / Mail Room / Juristic Person Room / Wellness Garden / Tropical Jogging Track / Family Lifestyle Hub / Creative Outdoor Playground

Floor 3:
Library And Co-Creative Space / Active Zone (Fitness)

Floor 5:
Laundry Room / Driver Room
Floor 8:
Glamping

Floor 12:
Nature Lab

Floor 17:
Co - Kitchen

Floor 18-21:
Garden Theater

Floor 22:
Living Studio

Floor 27:
Sky Meditation

Roof Top:
Sunrise Deck / Private Cabana With Hot Tub / Family Cabana With Hot Tub / Outdoor Shower / Hangout Court / Mini Bar / Viewpoint And Yoga Deck / BBQ Counter.
HUA HIN:

Everyone has heard of this well-known place, which must have been traveled there at least once in their lifetime. a location that never stops offering while also creating fresh experiences.

Hua Hin is a constantly shifting scene. The once-quaint community on the Gulf of Thailand has a rich history, significant landmarks, and timeless appeal as its cornerstones.

The typical journey time to Hua Hin today varies widely depending on the circumstances and ranges from 2 to 3.5 hours. Both Thai people and visitors from other countries flock to Hua Hin in great numbers to experience the area's breathtaking scenery, rich history, and distinctive way of life.

LOCATION:
OPENING THE WAY TO HUA HIN THE DESTINATION OF THE FUTURE

HUA HIN AIRPORT
Hua Hin Airport is in the process of expanding it's runways in order to turn itself into an international airport in order to make Hua Hin one of the top international vacation spot.

FLYOVER PROJECT (Bangkok - Wang Manao) (estimated time less than 2 hours)
Traveling to Hua Hin will get that much easier and more convenient with the construction of the Bangkok Wang Manao Flyover which connects multiple routes to the south of Thailand.

HIGH SPEED TRAIN PROJECT (Less than 1 hour)
The upcoming high speed railway project will revolutionise the route from Bangkok to Hua Hin. Decreasing traveling time substantially, adding another dimension to fast travel to Hua Hin.

This condo we seek to go above and beyond to ensure your happiness with a stay that is akin to checking in at a hotel with room services, spa, dinner a la carte and private party organisers. By being a unit owner you are entitled to a Proud privilege membership that enables exclusive hotel services from the HOLIDAY INN VANA NAVA HUA HIN at a special price. In addition you will receive a 5 year entrance to the VANA NAVA HUA HIN free of charge with free use of the locker space.

On top of all that is mentioned, so that you can have the special Hua Hin treatment like no other, use the application through your smart phone for any further promotions and giveaways exclusive to the condo unit owners.


Graph showing historical per sqm pricing in South