Back to news
[ 2018-02-19 ]
Thai properties high on Chinese tourists Lunar New Year holiday shopping lists
Thailand is now the third most popular property market for Chinese, helped by low prices and high rental yields
The Lunar New Year is a boon for Thai property developers and agents as China's affluent middle classes head south and combine their holidays with shopping for housing.
The number of enquiries in China about Thai property listings in January was close to the record set a year ago, according to Juwai.com, a Chinese international property portal, and the country jumped to No 3 on Juwai's ranking of popularity for Chinese investors in 2017, behind the US and Australia, from sixth place in 2016.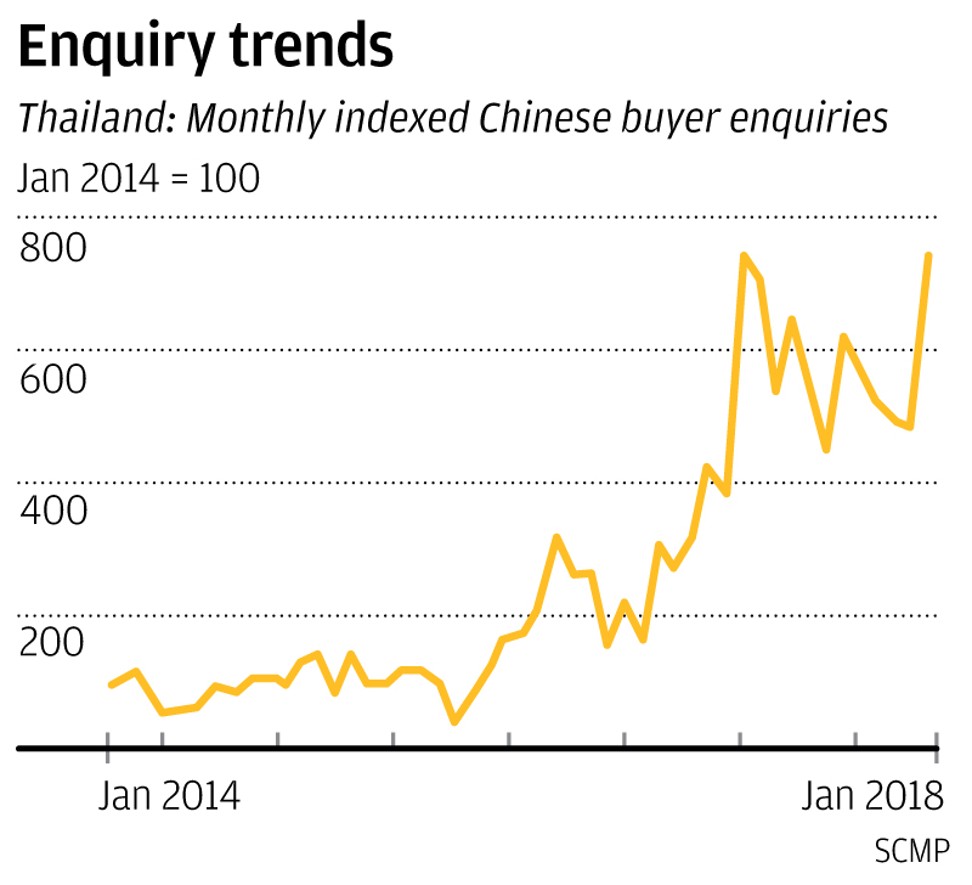 Xiao Jing, a 33-year-old Shanghai nurse, is one enthusiast. After frequent trips to Thailand since 2016, she settled on a 50 square metre, one-bedroom condominium in central Bangkok for 1.37 million yuan (US$220,000). She said she could live in the property when she travelled to Thailand and rent it out when she was not there.
"The same condo in a similar prime location in Shanghai would cost more than 5 million yuan, and with all kinds of purchase eligibility restrictions. The contrast is so stark," said Xiao, who plans to live permanently in Thailand after retirement.
Chinese buyers like Xiao are pushing a cascade of money into the Thai property sector. While there is no solid nationwide investment data, some individual cases show how hot the market has become.
Sansiri Pcl, one of the largest developers in Thailand, saw its sales to Chinese buyers rise 30 per cent in 2017 to around HK$820 million (US$104.8 million) and is targeting sales of HK$1.4 billion for 2018. In 2016 the company set a HK$236 million sales target for mainland China, which was considered "very ambitious" at the time.
The boom in business pushed Sansiri to open three new offices in China last year to join its Beijing branch, and mainland Chinese buyers now make up about 30 per cent of its international buyers and are on course to exceed those from Hong Kong, which had been Thai developers' top market for years.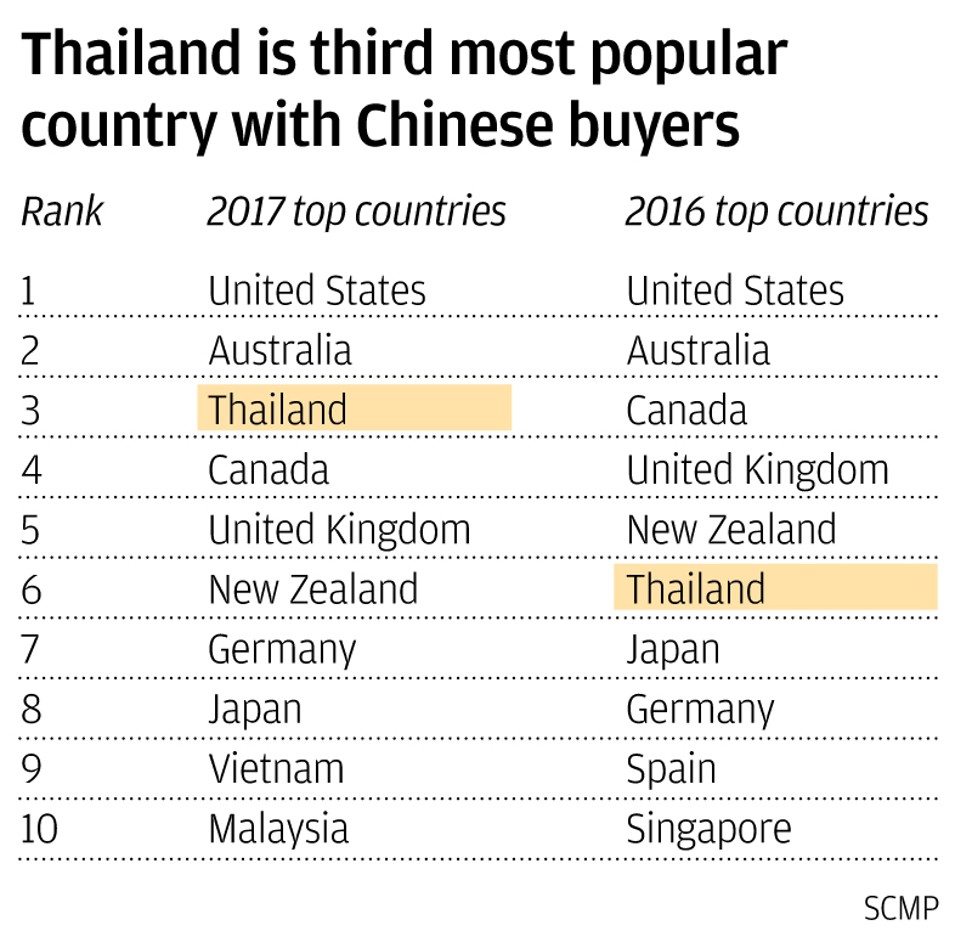 Huang Xiaodan, founder and CEO of Uoolu, an internet platform that connects Chinese buyers and overseas properties, said Thai property stood out because of its high value proposition, high rental yields and low thresholds.
"If you compare Thai sea-view apartments with those in Sanya, they will undoubtedly beat Sanya. And it takes similar time to fly from Beijing," said Huang. Sanya, in southern China's tropical Hainan province, is a popular domestic tourist destination for Chinese.
Thailand accounted for a half of Uoolu's total transactions in 2017, and drove the platform's gross merchandise volume up 307 per cent.
For Origin, another top developer in Thailand, more than half of its foreign buyers are Chinese and sales to them are growing at a 30 to 40 per cent annual pace, according to its CEO, Peerapong Jaroon-Ek. He said almost all Chinese buyers buy one or two condos for investment purposes, with units costing less than 1 million yuan the most popular.
"Compared to other country's buyers, the Chinese like small units. Hong Kong and Japanese buyers like bigger ones, and usually Japanese buyers are businessmen in Thailand," he said.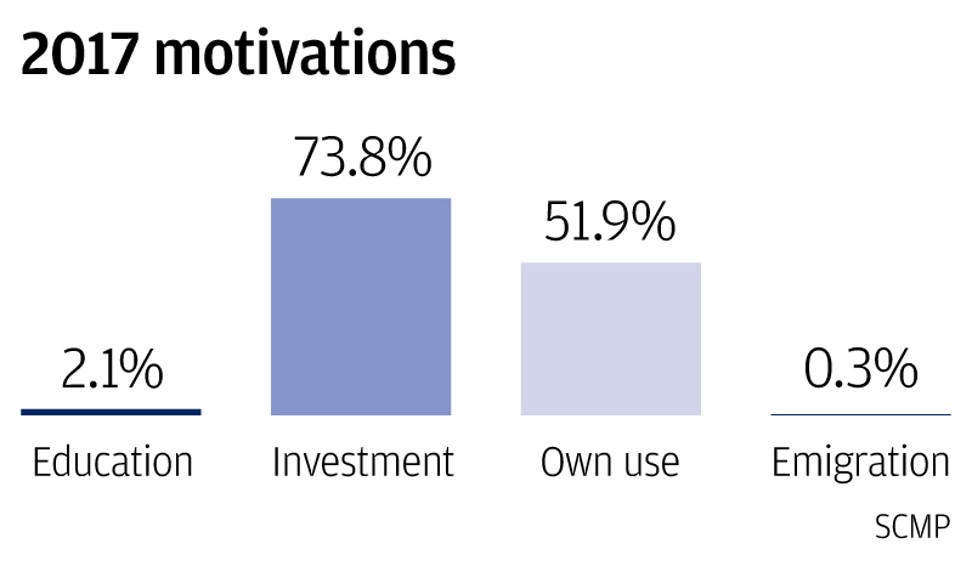 A survey by Juwai found that 73.8 per cent of Chinese buyers said they were investment-driven, while 51.9 per cent also bought for self-use. The southern resort of Pattaya was the most popular destination, followed by Bangkok and the northern city of Chiang Mai.
This article appeared in the South China Morning Post print edition as:
Chinese buyers keen on Thai property
.
Source: http://www.scmp.com/property/international/article/2133702/thai-properties-high-chinese-tourists-lunar-new-year-holiday